---
Jag


Thursday, March 3, 2011

The very first time I laid eyes on you, I knew we were about to embark on a long, devoted companionship. It was October 2003, at the northwest side Bark Park in Indianapolis. The setting was the autumn masquerade parade and picnic sponsored by the Indiana Sheltie Rescue. Leeza, who was to later become your big sister, came disguised as the "Wicked Witch of the West."

Following the masquerade parade and judging, all those Shelties available for adoption were released from their cages and YOU immediately found ME and sat at my side. Even though you didn't immediately accompany Leeza and I back to Peru that Sunday afternoon, it was only a few days before Adam delivered you to my backdoor step.

You were somewhat shy at first around Leeza, and she was a bossy big sister, but soon a genuine friendship formed. You were such a handsome, fluffy little guy and loved our big back yard. You were a quiet guy and oftentimes only barked if big sister barked–even then at times you just pretended to bark and no sound was heard.

Jag, within a short time, an inseperable bond was formed. You were always at my side–as I shaved, you waited patiently on the rug; as I showered, you were right there on the bath mat. We soon shared car rides to the bank drive-up or even to pick up an occasional treat at the ice cream store. If you didn't accompany me, your handsome little Sheltie face was framed in my backdoor, awaiting my arrival home.

The weeks and months passed by like seconds and minutes. Jag, you were a healthy little guy, but some problems began to ensue. Thyroid complications affected the density of your coat, but surely didn't diminish your SWEET personality. Cancer took Leeza after a few years and we both missed having her around the house.

In Leeza'a absence, YOU quickly assumed some of her valued spots around the house–"guard postition" at the back door and the "big dog bed" in the utility room. Jag, you joined me for breakfast, lunch, and dinner–you were there as I washed the dishes and did laundry.

But…..your activities really began to slow–numerous long naps dominated your days followed by more naps. It soon became apparent your little body was really showing signs of weakening and age. We continued to enjoy times together–picking up the mail and trips outside to explore the backyard.

Then it seemed to hit–Jag, you struggled to maintain your balance, your breathing became abnormal and labored. After contacting our vet, we tearfully made the journey to Wabash, our eyes often making contact and it was so sad. Regardless of how badly I wanted to bring you back home, it wasn't going to happen. The vet diagnosed your problems were heart related and the you had undoubtedly suffered a heart attack. JAG, you bravely passed on as I held you on my lap. Needles to say. the trip back to Peru was lonely and even MORE tearful. How could all those years pass by so rapidly? Things at our house will never be quite the same without your loving and quiet personality, Jag. We all miss you very much, but one day will come when we're all united again, you, Jag, and Leeza and Precious. Thank you, JAG, for all those many fond memories!

Your Dad,

Mike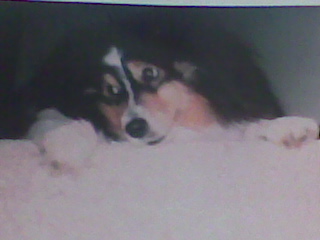 Sheena
In Memory of our Beloved Sheltie
Sheena came to us as a foster sheltie (an owner turn in). She was very depressed and withdrawn about being abandoned …..and it took her several months to work out her 'angst'.
Slowly she began to socialize with our two male shelties (who are the same age) and soon they became inseparable ….including long car trips to the beach house in Florida, trips to the store, etc. …she love to go for rides with our male shelties.
Then came the dreaded moment when someone expressed interest in adopting Sheena, and we could not bear the thought of having her repeat the 'angst' of being removed from the place she had come to know as her home ….we might add she had ' wormed her way into our hearts ' as only a sheltie can do ….so we had a family meeting and unanimously decided (Sheena voted as well) our home would be Sheena's forever home. From that day forward, Sheena was always a Happy Camper who kept our male shelties 'in line' and 'protected 'us as only a sheltie can.
Sheena could communicate amazingly well …by how she looked at us ….how she inflected her bark …and of course
the paw and the muzzle nuzzle ….in fact she could tell us what she wanted or wanted us to do for her better than
many English speaking adults we know.
Sheena is in our hearts forever.
Neil, Sharon, Curbie and Kelly Nelson
MY SWEET HALEY

On August 27, 2009, my sweet Haley left this world for the Rainbow Bridge. It happened quite suddenly, most likely a heart attack or stroke. Haley was given up at the Ft. Wayne Animal Shelter because they said she was not good with children. At that time she was about four years of age.

Cynthia Fett rescued her and I adopted her shortly afterwards on August 7th, 2001. For me it was love at first sight. For Haley, it took a little longer. She mourned for her former family for weeks and maybe even months. She would stand at the door or gate for hours. It broke my heart. In the house she preferred to hide behind the couch or chair.

Gradually, however, this wonderful, sweet, gentle Sheltie emerged. She always seemed to have a smile on her face. She loved everyone who visited, but especially adored my neighbor Marc. She was the first to welcome the foster dogs, or the ones just staying for a day or two. She loved to flirt with her two sheltie brothers, Nathan and Austin. Ironically, children were her favorite. She lavished them with kisses and begged for belly rubs. They loved her gentle spirit.

She will always have a special place in my heart. She was the reason I became involved in Indiana Sheltie Rescue. I will miss her. My heart aches, and my house seems empty, but my life is so much richer because of her. MY SWEET HALEY.

Mary Kay Matasky
Teddy


June 4, 1994 – May 12, 2009

You were the inspiration for me to get involved in sheltie rescue. Cynthia thinks of you as our mascot. I am proud that you represent so many shelties! During your early years I still had time for art work so I am lucky to have a lot of portaits of you. I doubt many know that your portrait is featured on the Indiana Sheltie Rescue logo. We had lots of fun in the early years learning agility together. I remember how you enjoyed it. I hope that I was able to keep you comfortable near the end. I did not want you to suffer. You were a good companion but I know you were tired. Please have fun running and jumping in doggie Heaven with your young body again! Someday I will see you, Hope and Nigel again.

Mom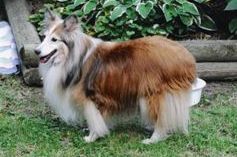 Emma

We adopted our first Sheltie from ISR in 2000. He had come
from a shelter in Ft. Wayne. A year later we got a call that Cynthia had just picked up a female that
looked a lot like our Kirby. Without hesitation I said I would adopt her. Kirby needed a companion and
we needed another Sheltie.
Emma came to us in 2001, a very scared 8 year old girl. Overweight and short brittle hair. Just the
sound of a fork on a plate or anything you picked up in your hand would send her into hiding. With love she
overcame most of her fears (with the exception of the camera) and became the Queen of the house.
In March Emma was diagnosed with a tumor in her bladder.
In June she went to the Bridge to wait on us and Kirby. She was 15 1/2.
Thank you for letting us give Emma a better last half of her life that the first half must have been.
Darst and Jean
Kirby, Tucker and Willow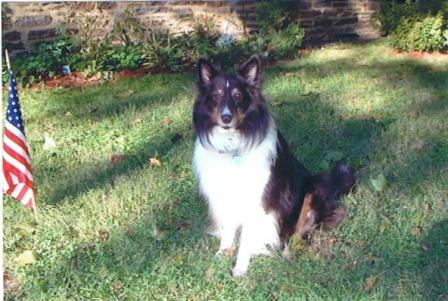 Brooks Robinson Becker
August 2, 1997 – May 4, 2009

I would like to pay tribute to and to celebrate the life of a very special Sheltie. Brooksie (named after baseball great Brooks Robinson because of her adept skills at "shagging" a ball) was a highly social and active spirit. Truly a lady, she maintained a dignity and grace to the end. She wasn't a dog – she talked to me, listened to me, comforted me, encouraged me – she really was my best friend. Dealing with her cancer for the past two years, I have learned a great deal about myself as well as the needs of special (abused, disabled, sick, older) pets. Brooks will live forever in my heart – she will never be forgotten.
Bless you, Indiana Sheltie Rescue, for your dedication to ALL the Shelties that come to your door. I know that Brooksie led me to your website for a reason.
Johnny Sears

February 2005- February 2009

We adopted Johnny when he was two years old. I fell in love with his eyes from his picture on the ISR website and knew he was the newest member of our family. We took our whole family, including Albert – our other dog, to meet Johnny at his foster home and it was reinforced that he was the right dog for us and we were the right family for him. We had already been pre-approved by Indiana Sheltie Rescue and so we were fortunate enough to be able to bring Johnny home with us that night.

Johnny fit in perfectly right from the beginning. He was loving, attentive, well-mannered and had the grateful sense about him that rescued dogs have – he knew he was home. We were blessed to have Johnny for two years. About a year after we adopted him there was a knot on the back of his neck that had started to grow and he began to gain weight even though he was on a regimented daily feeding schedule and high quality food. We saw three veterinarians over that year to try to figure out what was going on. The ultimate finding after x-rays, exams, blood work, etc. was that the knot on his neck was either an old spinal injury that was not treated (prior to his rescue) or that it was possibly a cancerous growth. Johnny began to have difficulty walking, running, jumping and became more lethargic. We started treating him with pain medication and massage and then finally found a holistic vet in Bargersville who also began him on a regiment of Chinese herbs and acupuncture to help control his pain. The first visit when we were there Johnny was so tender that he could not stand to be touched. After treatment with additional pain medications, acupuncture and massage work. Johnny seemed to get a little better. I was cooking a special diet for him of raw rabbit – cooked each morning for him before I went to work and a Turkey and Duck kibble.

He even started loosing weight. But he was still in a lot of pain. Johnny was stoic and loving through it all. Even when his body hurt terribly he still loved to have his face rubbed and I would sit for hours with him on the floor rubbing his face, brushing him gently when he could stand that, and doing energy work on him. He LOVED the energy work! Most of the time that seemed to help him relax and often he would roll over on his back and go to sleep – it at least allowed him to rest peacefully for a while.

Johnny was an absolutely amazing Sheltie! He loved Albert, and our cat, foster puppies, and when we got another permanent puppy in our home he taught Charlotte so many things! Manners, how to go outside to potty and most of all how to sit quietly with him when he was hurting so she could be near to him. Charlotte loved her brother intensely. When the puppy had her spay surgery, Johnny never left her side through the first night. He laid with his head on her bed and licked her softly when she would stir.

We had never been blessed with such a loving devoted little soul until we met Johnny. He would even alert me to injured birds in the yard when a baby would fall out of a nest or fly into the garden and get stuck and he would bark incessantly until I "rescued" the injured animal that he could have easily killed and eaten if that would have been his nature but, that's not our gentle Johnny.

In February Johnny's pain became unbearable even with all the medications and alternative therapies we were doing and I held him in my arms while he transitioned peacefully to Rainbow Bridge, one week before his fourth birthday. Johnny is free now and no longer in pain. I miss my baby every single day and even our neighbor behind us was extremely saddened to hear of his passing. Johnny had made such an impression on her that she had purchased two statues that looked just like him to have in her patio room. (I did not know about this until after he passed.)

Johnny. Our sweet, beautiful Sheltie whom we adored. We are grateful for the time we had with him and he will be in our hearts forever. You are loved sweet man – Always.

Tami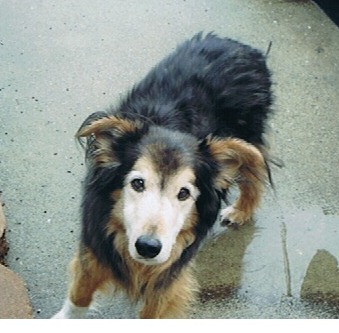 Traveler
When we lost our Brittany, we found our Traveler. As we frantically called everywhere for our lost sheltie, we became known to Greenfield Animal Control. After we found Brittany, we called them with the good news. That's when they told us of the "sheltie" that had been brought in by the State Police. He'd been walking down the median of Highway 70. He should have weighed 45 pounds – he weighed 20. Burrs were between his worn pads and "no hope left" was apparent in his brown eyes.
When we went to get him we knew he was not a pure sheltie. How could we leave this old guy there to die alone? We took him to Dr Bonnie and the angels at Pets and Vets. They kept him for a few days and when we picked him up on a Friday, it was to see if he would survive the weekend. Survive he did for nearly 6 more months, through good and bad days. We named the old guy Traveler and soon hopelessness left those brown eyes. We felt privileged that he would live the sunset years of his life with us.
His favorite spot became the big fluffy dog bed in the den. Since he was so thin, we put a heater next to his bed and that's where he spent the better part of his days. For being nearly starved to death, he was a picky eater. We concocted all types of meals for him to eat and we managed to get 7 pounds on his old body. Amazingly, our dogs knew how frail he was and left him alone. On Traveler's good days he would join the others to beg for cookies or bark at the door. Sometimes he played and sometimes he grumped, but he was always a good old fella. Eventually the bad days took over and we knew the time had come to let him go to the Rainbow Bridge. On April 13, 2009 Traveler Miller died peacefully in his mother's arms, with his dad right next to him. We took him home and buried him in the special place in the garden reserved for our "babies". So now we must wait to see him at the Rainbow Bridge. We'll look up and he'll come running up to us, young, spry and with those big goofy ears of his, blowing in the wind. Good things do come out of bad. He we not lost our Brittany we would never have found our Traveler.
Don & Doreen Miller
Kenny


Our Kenny

Kenny came to us in the worst shape I have ever seen a rescue come in. The mats behind his ears were golf ball shape and you can imagine how much that had to hurt when he shook his head. He had severe diarrhea, which had matted around his bottom. His coat was a mess, just matted and horrible. I can't even describe to you the horrible smells on the way home from Fort Wayne where I picked him up! Just heartbreaking. He was a beautiful dog. The groomers where able to save his coat. The vet gave him many rounds of antibiotics to clear up his kennel cough and his intestinal problems I switched him to an all natural food and that took care of his diarrhea. Little by little he wormed his way into my heart. I told myself, "Who would want this old man?" no one would ever want to adopted him. I think I said that to myself because he just won me over! I love him from the first moment I had to pick him up and put him in the backseat of my car.

He came home and just took over my room! That was his spot. He came out twice a day to eat and potty. Unless one of us were coming home. He definitely came out to greet us with his horse bark. (that kennel cough never quite went away) He just wanted a quite, clean and safe place to rest and live peacefully for the rest of his days. I noticed he was losing his sight quickly and then his hearing started to go. He just kept going.

About a year ago, I took him to work with me to do a dental. He had an abscessed tooth and needed to be done. The anesthetic was hard on him and I was a nervous wreak! My co-workers were amazed because it never had bothered me to watch my pets have procedures done on them. Kenny definitely had taken a special place in my heart! It was the hardest decision to put him down. I knew it needed to be done but had no idea how hard it would be. Thank you Kenny for letting us give you a home in your finally years of your life. I have now been loved unconditionally by a very special sheltie and I will never forget you.

I love you and miss you greatly,

Mom

 
---
---
Chico Dunivent

January 1, 1999 – December 8th, 2008

The day Lisa with the Indiana Sheltie Rescue came to my home, she had actually come with the idea of adopting out Kimmie ( some of you may remember her), unfortunately Kimmie was a bit to vocal for me. Lisa also brought Chico along just in case and as soon as she opened the back of her van and I laid eyes on him, it was love at first site. He was the most beautiful dog I had ever seen. The eyes truly are the passage to the soul. Until the day he died one the things I loved to do most was to just look at him and I miss that so much.

Chico took about 3 months to really feel at home with us, but once he did he loved us with all of his heart. Some of the things Chico loved to do was play in the sprinkler, go for walks, sit with mom and do anything his big brother Simon was doing. He should have been named Pokey, he would take so long to come in, I would call and he would look at me and continue on at his own slow pace. I remember one time he really did stop to smell a Dafodil. I called him sneakie cheekie, he would always sneak up on our our other two dogs or squirrels. Those squirrels had his number though. They would sit between the two trees in the back yard and wait for Chico to get about 10 feet from them and run up a tree. Chico never knew which tree, so it would always be a last minute decision on which way to go. He would try to jump up the side of the tree with no luck. I always give each of my dogs mommy and me time, Chico and I had ours just a few days before, I was eating peanut brittle and had him sitting in bed with me. I do not usually give my dogs table food, but I gave him a few small pieces of the brittle (no peanuts). I think maybe I knew deep inside, his time was coming. I just remember Dr. Murphy telling my mom in her Yorkies last week to give him whatever he wanted. And maybe thats what I was doing for Chico. I am just glad I had that time with him, one on one. He was one of a kind and I will never meet another soul like him. I thank the Indiana Sheltie Rescue for giving us 5 great years with him. I am so glad we were able to give him a loving, safe home where he knew he was family.

Although he became very dependant on me in the end, Chico was happy and full of life up until an hour before his demise. He got up and ate breakfast as usual. Unfortunately the fluid in his chest was too much for his little heart to take. I have lost family members young and old, however I have never grieved this hard and hurt this much in my entire life. I wake up in the morning and for a split second everything is fine and then I remember, my stomach drops out from under me. I cry at the drop of a dime. When your pet gets old, sick or both you become more than just "their human" your role changes and you become their caregiver. So, you not only lose them, you lose the need they had for you. Their unconditional love is irreplacable. I ask myself if there was more I could have done, did I wait to long to get him started on his medicine, did I not see the signs because I was too worried about dealing with the day ahead? If I had taken 5 extra seconds to really check on him, would it have made a difference. Sometimes we get so wound up in day to day tasks, we forget to take time out for our family. That will never happen again here.

I know Chico is not questioning me, he is having fun and in full spirit with all of his brothers and sisters, running, playing in sprinklers and having a ball chasing squirrels. I will miss him so very much. My time is not over here and I have more dogs that will need me in this lifetime. Chico is now waiting with our other pets at the rainbow bridge and I know that when my time comes we can all finish our journey together. Between you and me, I am looking forward to that day. I can't wait for it. It will be the most joyous of days. I love you baby boy! Can't wait to see you again…..Love, Mama
---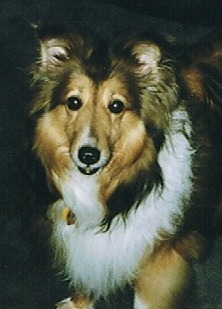 Memories of Carrie
Our precious sheltie, Carrie, of 9 years died just 3 weeks before Christmas from cancer. My husband and I miss her terribly but she lives on in our hearts
and memories. Our memories of her are endless. She blossomed into a very loving, affectionate sheltie. We got her when she was around 18-24 months. After bringing her home that night it was obvious that she felt right at home with us and our kitty. Carrie and our kitty were wonderful buddies, chasing each other around the house, keeping us in stitches. About 3 months ago I thought I would teach her to shake, being an older dog I thought it would be hard, but did she make a liar out of me. We miss those beautiful brown eyes,
the kisses, and how she loved to be hugged and held. We are so thankful to God for bringing her into our lives. She never really belonged to us, only to God. The 7 years that we had her she was only on loan to us, and we believe she lives on in heaven and we will see her again someday.
This is the perfect hymn that reminds me of her.
"All Things Bright and Beautiful"
All things bright and beautiful,
All creatures great and small,
All things wise and wonderful,
The Lord God made them all.
God gave us eyes to see them,
And lips that we might tell
How great is God Almighty,
Who has made all things well.
Thank you Indiana Sheltie Rescue for this blessed gift and most importantly to
God Almighty!!
Christmas Blessings to All,
Susan Buchter
—
Corky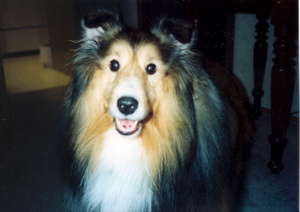 Being Rescued – by Carol Taylor
In 2002 I walked away from many years as a Wall Street slave, first as a trader, and then in administration. By the time I had all I could take, I already had thirteen published books all written by night, so long as the Asian markets offered no surprise opening numbers. I took scary chance that I could make my living writing full time. Even if things moved slowly in this transition, I believed nothing could be more unpleasant than working in an industry where burn-out is the norm rather than the exception.
At that time, I lived and worked in a small apartment. I was also watching a six year old relationship fall apart, something I could do nothing to prevent. I was alone all day, so my mother thought I needed another dog.
"Mom, why do I 'need' a dog?"
"Because you're good with them and you love them."
And, I thought, because you worry about me here alone with the family curse of chronic depression.
"I don't have time to raise a puppy right. It's not fair to me or the dog."
"Carol, there are places to get a dog who is not a puppy, and no matter what your mood, that dog will be in a much better place here with you than he probably is now."
I'd owned several dogs as an adult, none who I loved more than the Sheltie named Sandy who was around for fourteen years. I admitted to myself that I would love to have another Sheltie, so I went online and
started looking for Sheltie rescue organizations. I discovered Indiana Sheltie Rescue and carefully read through the entire website, and even looked at the profiles of dogs for adoption. For a life-long dog lover, it was hard to let go of the idea of adopting a rescue Sheltie after I'd seen their sweet faces. My mother even picked out the one I ended up adopting.
Still, I not only had lots of work to do to stay in the publishing game, but I had travel obligations as well. Some years are busier than others. I lived alone. I didn't want to board a dog every few weeks. This would require some planning.
I submitted an adoption application to Teresa Cotton. When we spoke on the phone I asked a lot of questions. This was a serious commitment that couldn't be made in haste. I wanted time to think things through, and wait to adopt until my travel commitments were over and I could give a rescue dog the best of myself.
As soon as I had the chance–about three months later–I went back to the ISR website and looked over the pets for adoption. I decided I could easily love Corky, a porky pooch with a playful smile. After I became an approved adopter, I immediately made an appointment to meet Corky at his foster home. He was beautiful, loved attention, but I could see he missed some socialization at some point. I needed to think about Corky overnight, and I wanted to call his former vets and ask some questions, especially about what to expect with his dysplastic right hip.
I called the foster home the next day and ask to adopt Corky. It was the smartest thing I ever did.
At five years of age, he was quirky, lovable, and he barked a lot, even for a Sheltie. I continued to keep him on the diet food for the sake of his hips, and constructed games we could play that did not use traditional dog toys or other dogs. As my six year relationship came roaring to an end, Corky was there with me. My previous Sheltie was "let's play ball" obsessed, loving, but not much for cuddling. I loved the fact that Corky was always willing to rest next to me on the sofa or snuggle close to me in bed. Most of all, I loved him and I knew that his love was returned. He became very important to me in those first few months after the break up of my relationship.
So, this was Sheltie rescue. What a great idea, but what does it really mean? Does it make the rescued a hopeless case or the rescuer a hero? And how do we decide who is who? In Indiana Sheltie Rescue we base our work on our motto, "Mending Broken Hearts," a directive that is a much better gauge of the concept of "rescue" that can ever be found in a dictionary.
By the time another year passed, Corky and I had bonded to the point where I almost thought he knew what I was saying to him, especially with my forehead pressed to his. I taught him a game we played in bed at night using Spanish words. He got to be Señor el Lobo Salvaje, or the Big Bad Wolf. He loved it, and the mattress cushioned the blows his hips would have taken on the floor. He was hugged so often that he learned to hug back when I lifted him. I shared many secrets with him, including the meaning of rescue. It goes two ways. Corky was always present, always loving towards me, and knew if "mommy" was having a good cry that his job was to put his head in my lap. I often told him, "My rescue dog rescued me," a secret we shared with no one else.
I was in Argentina in November 2007 when my mother first told me Corky wasn't "acting like himself." A vague phrase. He was eating and seemed otherwise fine, so she put the "not being himself" down to his missing me. When I returned in December Corky seemed to be fine. He was lively as ever, but what seemed to be nothing definable to us was an insidious invader we couldn't see–cancer of the bladder and liver.
Sitting in the vet's office holding Corky on my lap, I was faced with the irrefutable evidence of the x-rays. I was just numb. Corky was terminally ill. How did this happen and why didn't I see any symptoms?
I did as much for him as I could, but I had to give up for his sake and have him euthanized just three days after his tenth birthday. I had never had to make such a decision before, and this was made all the more difficult by the things he and I had weathered together. It was hard to let go. I lost not only my best friend, but also the dog I was closest to of the many I'd owned previously.
I still miss my Corky. His collar, a favorite toy, and a photo of him are on my dresser. I can see his smile before I go to sleep at night. Now, hogging my bed, is a sweet rescue named Brandy. She likes to cuddle and tolerates all my hugs and kisses. Many things about her remind me of my first Sheltie, but she is her own little personality, and I love her just for being her. She keeps me laughing.
I love to watch Brandy race back and forth across the yard, leap into the air, and sail over obstacles with her pretty feathers flying. I'd forgotten how beautiful a Sheltie was without the rolling gait of hip dysplasia to interfere. Brandy is healthy and happy, following me everywhere I go, rarely letting me out of her sight. Her interactions with my mother's little princess, Duchess, have also provided much entertainment.
Brandy's affection eases some of the pain of losing Corky. She will be another cherished Sheltie in my life, a new best friend to be there whenever I need her, just as I am here for her. I've no doubt about it. Once again, I must ask, just who rescued who here?
Muffin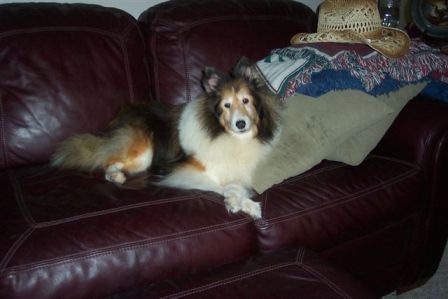 Several years ago our Molly Ann lost her Mother. When Brittany passed Molly no longer had a 4 legged playmate. Through friends we learned about dog rescue groups and a litle searching and Indiana Sheltie Rescue was found.
Molly filled out the application and soon a little fat Sable girl came to visit. She seemed so very lonely and and also needed a playmate. Muffin became part of the family, but not a playmate. She was her own little self. The term ignorameter came about because Muffin tended to ignore when things were not to her liking.
Five plus years later Muffin is still the same reserved little girl. Her personality continues to evolve. The latest is her "Hey Dad I'm waiting." At the dinner table, she grabs my shirt tail and tugs. She knows I sneak her a scrap without the other furkids knowing. If I don't pay attention she gets very insistent.
Muffin P (Princess) is in her golden years and we are truly grateful to ISR for allowing her to come into her life. The picture of her is after she had just got done showing her brother Edison how beautiful her snaggly teefies are.
Thanks John & Debbie
---
Update Feb 2007 by John Mountford
As is often the case, we wanted to get another dog to "replace" our dog who passed away. We needed a playmate for our other little girl. What we learned was, a dog is never replaced in anything but a physical aspect. There are as many personalities as there are Shelties. As Muffin ambled through our gate that first day she seemed resigned to the fact that this was going to be her home and she would toleate the humans that lived in the house. She and Molly smelled each other and then began a life together that never involved play or agression, but quiet acceptance. Muffin P became a little girl who loved to get attention, but was not a lap dog. She loved to beg a treat and used those wonderful soft eyes to her advantage.
She was such a laid back little girl. She seldom did more than trot unless there was a treat involved. Muffin would enjoy just laying and watching the world go around. She loved her property and would often walk the 5 acres, savoring everything around her. Mr Sunbeam was her friend on a warm spring day.
Perhaps the one thing that wound wind" her up," was a nice snow. She would "race" out the door kicking up her heels, doing Sheltie turns, and trotting along with her nose under the snow. Her soft eyes sparkled and that beautiful Sheltie smille was just extra special. Snow just made her remember that she really was a dog.
This year the snow came, but our little girl had gone to a special place.
Thank you, Indiana Sheltie Rescue, for letting Muffin be a part of our family.
Ladybug
June 8, 2005
Vixen, a puppymill mom… Ladybug, unwanted after a new Christmas puppy… We called her Weeble, becauseshe wobbled & didn't fall down. All three together made the sweetest, most caring & gentle Sheltie ever! She will be missed.

-Paula & Michael Bare
Key
Largo's Sunrise Hope
October 2002 – January
24, 2005
It has taken 3 long weeks to be able to write to you. I don't know if I overlooked something when you were sick or if you were just meant to have a short time with us and someone else needed you. We have had so many letters and sympathy cards about you and the volunteers set up a fund to help the other rescue shelties in your honor. You had made a big impression on so many. For those that don't know your story, I am going to briefly tell it
again.

You were born to someone belonging to the Central Florida Breeder's Assoc and you along with many other puppies made your way to Indiana in a box truck to the Nut n Butt puppy store. Things didn't go well at the puppy store and through the determined efforts of concerned customers eventually Indpls Animal Care and Control seized the remaining puppies and took them to the shelter. Due to lack of care some of the puppies had died, some were sick with pneumonia and parvo, some had congenital problems. You had pneumonia and a
PDA heart murmur. Volunteer Jodi Vondran convinced the shelter to let you leave and go to a vet for more detail care. Jodi brought you to me on Dec 23, 2002 and early on Dec 24 , 2002 your Aunt Jan and I took you to see the doctor who would become your Doctor Aunt Mona. You were given medicine and sent home to rest and see if you could get better. If you did survive you would need to have heart surgery. Well over the next months you did survive and you did have heart surgery and Justice for Puppies prevailed after several court hearings with the owner of the Nut n Butt puppy store.
It had not really occurred to me that I could let you into my life to love but Doctor Mona convinced me I could do that so I took the plunge and we made you Hope Cotton. You had many endearing qualities and in many ways were the perfect companion. Everyone loved you. You got me out to exercise by joining me on my bike by riding in the basket with me.You learned tricks and entered costume and trick contests. You sat for some beautiful pictures. You began to learn agility and had earned two legs towards your jumpers with weaves in AKC and one leg towards jumpers in USDAA. The best times were just me and you though and looking deep into your beautiful Angelic eyes. You welcomed many a homeless sheltie to our home and became attached to Timmy who joined us in Mar 2004. I know you wanted Timmy to stay with us and so he will join our family and we will have to go on without you. I will always be grateful that the Lord sent me an Angel to love. I will always love you. I will always miss you.
Love,
Mom 

December
23, 2002
Little Hope about 7 weeks old

January 31, 2003
Post surgery to repair PDA heart murmur following recovery from pneumonia

2004
Shadyside
Park, 
Anderson,
Indiana

2004
Agility
Girl!
JOSIE

Three years ago, a beautiful blonde
Sheltie named Jolynn came to stay at the Bare's Den. We met her at an ISR outing
& it was love at first sight. She immediately came over & sat with Spencer. They
were best Buddy's. Never any trouble, loved everyone including her adopted &
foster brothers & sisters. She loved to run & play. Waited for hours staring at
the neighbor's door, waiting for him to come outside & give her a treat. Always
comical, cackling, nibbling,
poking with her nose for attention. Rolling over & over out in the yard. Always
smiling. Paula's velcro dog… Apple of her papa's eye. Known & loved by everyone
she met, she will be missed….

Paula & Michael Bare, The Bare's Den

Three years ago, a beautiful blonde
Sheltie named Jolynn came to stay at the Bare's Den. We met her at an ISR outing
& it was love at first sight. She immediately came over & sat with Spencer. They
were best Buddy's. Never any trouble, loved everyone including her adopted &
foster brothers & sisters. She loved to run & play. Waited for hours staring at
the neighbor's door, waiting for him to come outside & give her a treat. Always
comical, cackling, nibbling,
poking with her nose for attention. Rolling over & over out in the yard. Always
smiling. Paula's velcro dog… Apple of her papa's eye. Known & loved by everyone
she met, she will be missed….

Paula & Michael Bare, The Bare's Den
TIRA

Indiana Sheltie Rescue is remembering  and celebrating the life of our
rescued sheltie #233, Tira, today.  We are also thinking of her wonderful foster family,  Jan and Mike Padgett, who stood by Tira's side during her illness and while she was  in the care of our rescue program.  June 16, 2004, Tira lost her battle with cancer.  It all began when  a little young adult stray female sheltie ended up at Indianapolis Animal Care and Control in October 2003.  We were asked to take her and the Padgetts stepped up to foster and care for her until an adoptive home was located.  They named her Tira.  When receiving routine medical care it was discovered that Tira had cancer which had already spread  and was terminal.

From
that day on, the Padgetts treated Tira as if she were their own dog. They
saw to it that Tira got to go to training classes, our 2003 Reunion,
many outings and had the opportunity to chase and fetch as many tennis balls
as possible for the time Tira had left. Until just a few days ago, Tira
faced each day with tennis ball chasing gusto! We extend our gratitude to
the Padgetts for all they have done for us and for Tira. I am sure that
Tira is up in doggy heaven chasing tennis balls with a new healed body now!

Indiana Sheltie Rescue is remembering  and celebrating the life of our
rescued sheltie #233, Tira, today.  We are also thinking of her wonderful foster family,  Jan and Mike Padgett, who stood by Tira's side during her illness and while she was  in the care of our rescue program.  June 16, 2004, Tira lost her battle with cancer.  It all began when  a little young adult stray female sheltie ended up at Indianapolis Animal Care and Control in October 2003.  We were asked to take her and the Padgetts stepped up to foster and care for her until an adoptive home was located.  They named her Tira.  When receiving routine medical care it was discovered that Tira had cancer which had already spread  and was terminal.

From
that day on, the Padgetts treated Tira as if she were their own dog. They
saw to it that Tira got to go to training classes, our 2003 Reunion,
many outings and had the opportunity to chase and fetch as many tennis balls
as possible for the time Tira had left. Until just a few days ago, Tira
faced each day with tennis ball chasing gusto! We extend our gratitude to
the Padgetts for all they have done for us and for Tira. I am sure that
Tira is up in doggy heaven chasing tennis balls with a new healed body now!
BEATTY

On October 24, 2003 Beatty's foster mom, Sandy, decided it was best to say goodbye to Beatty. We know nothing of Beatty's life before the spring of 2003. He may have been more than 15 years old when he found himself lost and ending up in a local animal shelter. Sandy agreed to take Beatty to foster and I think it we all knew it was unlikely he could find a
home.

Sandy cared for Beatty over the summer and loved him as if
he were her own. We were glad to give you a safe and loving place during your
last months. Foster mom Sandy, we thank you.
Rest in peace, Beatty
A Tribute to Mollie

   

Click here

to read Mollie's story





OREO

September 14, 1992 – August 27, 2003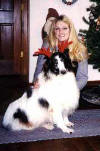 Oreo came into our program in the fall of 2000. At that time, he was 8 years old and weighed a whopping 73 pounds.  Because of his weight, his joints were broken down to the point that he was actually walking on his wrists and ankles. But the size of his heart was just as big. Oreo wanted so badly to run and play with the other Shelties in his foster home, but after a few steps he was worn out, and then he was content to sit patiently with his foster mom and watch them.
Gradually with a slow and steady program of diet and exercise, the pounds began to  come off. And in December of 2000, a wonderful thing happened: a couple of our volunteers, who had previously adopted another senior dog from us, became interested in the possibility of adding Oreo to their family.
Jack and Stormi Brake adopted Oreo on January 4, 2001. That was really his second birthday, because for the next 2-1/2 years, he was able to live and play like a normal Sheltie. The Brakes continued his weight loss program, and Oreo recovered to the point that he was walking up on his paws again, running and playing with his Sheltie sister Abby, and even climbing stairs!

Oreo contracted lymphoma this year, and that battle was one with impossible odds. But all of us who met him will remember this sweet, gentle giant with fondness and be grateful for how happy his last few years were.
Mackenzie
Mackenzie came to live with me at 6-1/2 weeks old, a fluffy ball of fur. She was my first introduction into competition obedience. Being new to shelties, I didn't realize she was not the best choice for competition,
but she did try her best. She went on to compete in agility and earned the U-ACHX, the highest agility title awarded by the UKC. She was always bright and alert, never missed anything, followed me everywhere and always had something to say, a sheltie through and through. She wasn't happy when brother Keenan was adopted from ISR four years ago, but he quickly learned that she was used to getting her own way and always let her be in charge. She had difficulty adjusting to the world when she lost her sight last year to SARDS, it did take a few months to adjust, but she never gave up. I used to get so mad when she would get into things she shouldn't, but is worse when she stopped trying. She was also developing problems due to kidney
failure and a sudden illness proved more than her little body could handle. Her feisty little personality will be sadly missed.
by Rhonda
Politsch
Spencer Bare 
1993 – May 8, 2005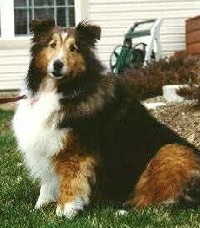 Spencer spent a few days in the Ft. Wayne shelter after his human had passed away. He was then taken into rescue and delivered to us as our first foster Sheltie. He was still grieving over his lost human, and it took him about two weeks to show us his true personality. He was about eight years old at the time but he still had plenty of energy and frequently played like a puppy with our other dogs. He learned our routine quickly and was eager to please us. He had a gentle nature, and taught us what was needed to be a good foster home. Spencer was a patient teacher, which was necessary, as we were sometimes slow learners. 
We thought at his age it might be hard to find a good home for him as many families seem to want younger dogs. Were we ever wrong. Soon Paula and Michael Bare showed up at Best Friends Pet Resort where there was an adoption event. Things went well and paperwork was quickly filled out to start the process. The Bares could not believe an older guy, perfect manners, gorgeous full coat, tipped ears & nobody wanted him. The tension ran high in the Bare household as they waited to see if they would be approved as adopters. Soon the home visit was completed, references checked and the humans involved in the process came to the same conclusion Spencer had over a week ago: the Bares would provide him a good home. When Paula and Michael come over to pick him up there were tears of sadness and tears of joy. We were sad because Spencer had become part of our life and he would be leaving our household, and we were happy for Spencer who was going to his forever home.
Spencer had four glorious years with the Bares, but today they were parted. A few weeks ago Spencer was diagnosed with cancer, and by today it became apparent that his spirit needed to be released from his failing body. He now frolics with the other furkids at the rainbow bridge.
Thank you, Spencer, for sharing your time with us and teaching us how to help other Shelties. You were a true gentleman.
–
Al Boulanger
SUNSHINE
March 30, 1990 – July 24, 2005

Sunshine was born when I was in a very sad time of life. I had lost the most wonderful
Sheltie, Sheba. Sunshine brought the light back into my life, thus her name. Sunshine took away the pain of that loss. She became her own self though, she was not a clone of Sheba. Sunshine became at a young age, 3 years old, due to an injury in her rear leg. She never let it get her down. As the years passed and the arthritis worsened, her vets would look at her x-rays and proclaim wonder that she could walk at all. But walk she did. She never showed pain. Not from arthritis or from the cancer that eventually took her. I think her vet described her best. In his condolence card he wrote, "She was a sweet but elegant old lady with a tough attitude and spirit." I will miss you forever Sunshine.
Love,
Mom
Submitted by Kim Osborn, Benecia, CA
Dugan Fett
In January 2003, ISR was called to take in an old bi-black stud dog from a puppy mill. He had lived his whole life in a wire cage. As a result, the pads of his paws were swollen and deformed, and his coat was so badly matted that he had to be shaved, making him look more like a black and white chihuahua than a purebred Sheltie! His teeth were so rotten that several were hanging loose out of his mouth. After what was probably the first dentistry of his life, he was left with only one tooth; but it was a very white, very handsome and sturdy lower canine!
When I took him to foster, it took all of 10 minutes of looking into his eyes for me to say to him, "I think you're here forever, little guy." I fell in love immediately, and named him Dugan, a fine Scottish name that I had held in reserve for my first male sheltie. Dugan joined our 3 female shelties and quickly became the clown of the bunch. His constant barking and circling around the furniture at mealtime earned him the nickname, "Counterclockwise Dugan" from my husband, since that was the way he always spun.
Despite his long years in a cage, Doogie was the perfect house gentleman. Once his coat grew out, it also became apparent what a handsome and well-bred Sheltie he was. He loved to take long walks, and always walked quietly right by my side, unlike his sisters who pulled and barked rudely at passers-by. He always stayed near me: sleeping on my feet at the computer desk or in the living room, and spending the night as close as he could to my side of the bed. And how he loved the snow, and herding the various birds and ducks that flew into our yard!
In January 2005, Dugan was diagnosed with lymphoma. Thus began our "great adventure," as Dugan and I began a series of weekly three-hour round trips to an oncologist for chemotherapy treatments. At first the results were amazing, but after five months, Dugan began to wear down. On June 6, D-Day, which will now be known forever as "Dugan Day" in our house, Dugan's life on earth came to an end. As we eased him peacefully into sheltie heaven, I complained to my vet about the unfairness of it all, that Dugan only had 2½ years of a good life after so many years of a lousy one. But my vet said a wonderful thing: "Yes, but he had the dessert with you, and everyone knows dessert is the best part."
Good-bye, my darling little son. May you chase sheepies in heaven forever.
-Cynthia Fett
Toonie

Mommy misses you so much everyday.  A day, a minute, a second doesn't go by that my I don't think about you.  My heart is so broken right now without my little Tuna Fish to snuggle up to me on the couch, and watch TV, and on the bed curled up to me at night. 

I miss you in the mornings when I would have to drag you out of bed to go out and then you would give me a hard time when I would try to get you to come back in.

I miss you waiting by the door in the mornings waiting to go out to the barn with and running up and down the barn isles barking at all the horses, making sure they were not going to get out of their stalls. You were always at me feet, always.

Why did you wander off, just that one time. That one time has now taken you away from me.  I know you thought you were a big boy and doing what comes natural to you,  but now we are separated.  I never in a million years thought you would ever be gone.  Now I hope I see you again soon. I know you are around me in many ways.

I try to think of all the great times we have shared, and I still laugh at all of the silly little things you use to do, like body slam the patio door whenever I would leave you.  Nip at Lauri's  feet and scare the dickens out of her.  She deserved it!

I hope now, that you have found Poco and that you are not alone. Please don't pester Poco too much, he didn't like it much when you would pull on his tail and bite his ears.  Please be good.   Until I can see you again, I will keep watching for your little tell, tell signs that you are still around me in spirit.  Godspeed, Fish!

Love Mom. Carrie Anne Tarr
February, 2006
MERLIN

Merlin is the only ISR dog to escape and be killed before we could find him. It is our intention to remember him and dedicate ourselves to make sure he is also the last to come to such an ignoble end.

He was a warm, loving fellow and we miss him.



Lucy

We wanted to let you know that we unfortunately lost our beloved Lucy today. She had recently been diagnosed with Congestive Heart Failure and was undergoing Lasix treatment along with an antbiotic. She seemed to have rebounded only to regress severely within the past 24 hours which forced us to make the extremely hard decision to humanely have her euthanized.

Lucy as we understood when we adopted her was rescued up in Northwest Indiana and was originally from a puppy mill but had somehow escaped. Having been through that hell initially, there was absolutely no way we could allow her to suffer any longer from the pain she was enduring. It was perhaps one of the most heart wrenching decisions we have ever made as responsible animal lovers, yet it doesn't seem to alleviate the pain that we feel… missing her already.

We just wanted to thank you and your organization once again for blessing us with Lucy for the past nine years.

Respectfully,

Glen, Dawn & Justin Peckinpaugh
A belief amongst the dog fancy is that when our four-legged friends pass on, they wait for us to join them at

The Rainbow Bridge.

From there we will make the final leg of our journey to heaven
together and will spend eternity in each other's company.