INDIANA SHELTIE RESCUE, INC.
23163 S.R. 37 North
Noblesville, IN 46060
Phone (317) 984-5737
We do not have a central shelter facility.
All our dogs are housed in private foster homes.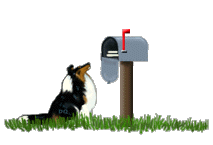 Due to the cost involved in returning out-of-state long distance calls, Indiana Sheltie Rescue will no longer return these calls. If you live outside of Indiana, please either send email or continue calling until you reach the director.
About ISR
AMERICAN SHETLAND SHEEPDOG ASSOCIATION
Member of the American Kennel Club
SUGGESTED GUIDELINES FOR SHELTIE RESCUE GROUPS
1. It is the policy of the ASSA to take all Shelties into the rescue program regardless of age or physical condition. We prefer that a rescue group make the determination as to the dog's potential for successful adoption. Shelter conditions often make a Sheltie appear more fearful or aggressive than it really is. Should the age or physical condition be a problem for a rescue to handle, we will move the dog to a group that feels they can be more successful. Those that might require training may also be moved to another group. Only extremely aggressive animals or those that are ill and suffering are euthanized.
2. Once a Sheltie is in a rescue program, the following services should be provided before the dog is placed:
spaying or neutering (inc. puppies)
updating of all vaccination
parasite free heartworm free (treated if necessary)
fostered for temperament evaluation, flea bath and grooming
3. Breeders are encouraged to take responsibility for dogs that have bred. However, if it appears that being returned to the breeder will put the dog at risk, rescue will take the dog and insist the breeder bear some financial responsibility.
4. An adoption fee will be charged to give some value to the dog. A contract will be signed.
5. No American Kennel Club papers received with an animal will be transferred. The adopter will be given information about the AKC ILP program should they wish to compete in performance events.
6. The dog is to be returned to the rescue that placed it should the family be unable to keep it. This is for the life of the dog.
7. We encourage rescues to permanently ID dogs with microchip or tattoo.
8. Financial aide is available to Sheltie rescue groups from the ASSA Rescue Fund. It is given as needed for individual cases involving medical care above the norm listed in #2 above or in the case of multiple dog rescues that quickly task the individual group's ability to pay. Heartworm treatment is considered above the norm.
Should you have any questions or concerns regarding this policy, please contact
Dorothy Christiansen, 815-485-3726 or dchristiansen@tco.com
You can also check the ASSA home page at www.assa.org. There is a link to the rescue site.
Dorothy Christiansen, Lynnlea Shelties of Illinois, 33 years
Member DWAA Member ASSA
http://www.geocities.com/lynnleashelties
Indiana Sheltie Rescue adheres to these guidelines.
(Reprinted by permission of the author)